StreetSENSE RS Series LED Roadway Sign Light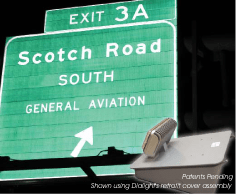 Certifications & Ratings
Compliant to IES RP-19-01Roadway Sign Lighting
Retrofit Cover Assemblies Recognized to UL-1598 Wet Locations
Complete Fixture Listed to UL-1598 Wet Locations
CSA 22.250
ANSI C136.31-2001 (vibration)
MIL STD 810F (salt / fog)
Features & Benefits
Mercury free
Long lasting / low maintenance
Low power consumption offers 60-70% energy savings vs.
250W MV
Superior color rendition index compared to HPS; LPS; MH; MV
Instant on/off operation – no cool down or warm up time required
for full illumination
Resistant to roadway vibration and shock
Universal input (120-277 VAC)
Weather/corrosion resistant lamp assembly and housing
>70% lumen maintenance after 60,000 operating hours
Application
Dialight introduces the state-of-the-art StreetSENSE LED fixtures designed specifically for "new" and "retrofit" installations of Roadway Sign Lights. All of Dialight's long life LED luminaires are designed to meet the most demanding specification criteria while offering maxiumum energy savings, reduced maintenance costs, and a superior quality of light.
Mechanical Information

Fixture Weight
25 lbs – Retrofit cover assembly, Halophane
25 lbs – Retrofit cover assembly, GE
32 lbs – Complete fixture
Mounting
Retrofit to Halophane SIGN-VUE enclosure
Retrofit to GE VERSAFLOOD SIGNLIGHTER®
Plate mounting of complete fixture
Pole mounting of complete fixture
(For inverted over head installations, please consult factory.
Mounting Accessories
Pole mount clamp

Electrical Specifications

System Power Consumption
70W and 100W versions available
Operating Input Voltage
120-277 VAC, 50/60 Hz
Transient Protection
ANSI C136.2 (600V) American National
Standard for Roadway and Area Lighting
Equipment – Luminaires, Voltage Classifications
EMI/RFI (Noise Suppression)
FCC Title 47, Subpart B, Section 15, class A devices.
Power Factor
> 0.90
THD (typ)
< 5% @ 120 VAC
<10% @ 230/240 VAC
<15% @ 277 VAC
Minimal Operating Temp
-40ºF

Construction

Body
Powder coated aluminum
Lens
High impact polycarbonate with UV stabilizer
and "hard coat" for abrasion resistance
Cover
Powder coated aluminum

Photometric Information

CCT
5300K (cool white)
4100K (neutral white)
CRI
70
Dialight Complete Fixture

Complete fixture illustrating cover assembly and enclosure.
Dialight Retrofit Cover Assembly
Retrofit assembly showing lid and light engine.
Side View – Complete Fixture
Side View – All Units
Inside box of Dialight Complete Unit
Pipe Clamp and Typical Mount
Typical CCT Values
| | |
| --- | --- |
| High Pressure Sodium | 2100K |
| Incandescent | 2800K |
| Halogen | 3100K |
| Fluorescent (standard) | 3500K |
| Dialight LED RS Series (Neutral) | 4100K |
| Direct Sunlight | 4900K |
| Metal Halide | 5000K |
| Dialight LED RS Series (Cool) | 5300K |
| Natural Daylight | 6500K |
| Indirect Sunlight | 6700K |
DOTs and other agencies must now choose alternative lamp sources for the replacement of these fixtures and for new construction or additions. Under the Federal Energy Policy Act (EPACT 2005) and the Energy Independence and Security Act, conventional mercury vapor lamps and all 150-500 watt metal halide probe start ballasts were mandated to be substituted with more energy efficient alternatives.
Going GREEN
The 70 or 100W StreetSENSE RS series LED fixture can typically replace a 250W or higher mercury vapor / metal halide unit while still meeting or exceeding the Roadway Sign Light Specifications, so it delivers CO2 reduction and energy savings of 60-70% over conventional lights. This efficiency is further enhanced by its instant-on/off ability with no necessary warm up to achieve full illumination. In addition its 'green' credentials are assured by the fact that it is 100% mercury free and dark skies friendly; this is assured by its highly efficient optics that focus the light just where it's needed, avoiding light spill.
Maintenance Free
The rugged, solid state StreetSENSE RS series fixture is not only an energy efficient alternative, but its projected fixture service life of ten years (50% on-time, >70% lumen maintenance after 60K hours) also brings other significant benefits. These include the elimination of frequent lamp changes and reduction of overall maintenance costs as well as reducing exposure of maintenance workers to dangerous highway traffic. For road users they deliver added safety by producing a quality of light that is vastly superior to conventional sources and by eliminating dark road signs resulting from burned out conventional lamps.
Ease of Installation
Dialight offers complete fixture assemblies for new, retrofit or complete replacement applications including a unique LED retrofit cover assembly kit option that will adapt to most installed conventional fixture boxes. The retrofit involves only the removal of the existing fixture's cover, lamp and reflector which is then replaced with the Dialight LED cover assembly, leaving most of the existing wiring connections untouched, so the conversion is simple and easy, saving both time and money.